The Hunting Life
The Hunting Life
I was cleaning out a drawer in my old shop desk and ran across an old coffee can full of memories. Memories can be of many things but a lot of my memories are of my life of hunting and the outdoors. The can contained quite a few of my old hunting licenses from my very first one up to the more recent ones. I don't know why I even started saving these old treasures in the beginning but for whatever the reason I am so glad I did now.
My very first issue was my 1958 Michigan small game license. I wasn't eligible for a deer license for two more years but small game kept me busy as I learned to hunt and by the 1960 deer season I was ready. I have already written about my first buck so that is another story but I did fill my tag. From that point on until I joined the USCG in November of 1965 I had a deer tag filled including the very morning of the 15th November 1965 when I reported for swearing in that afternoon.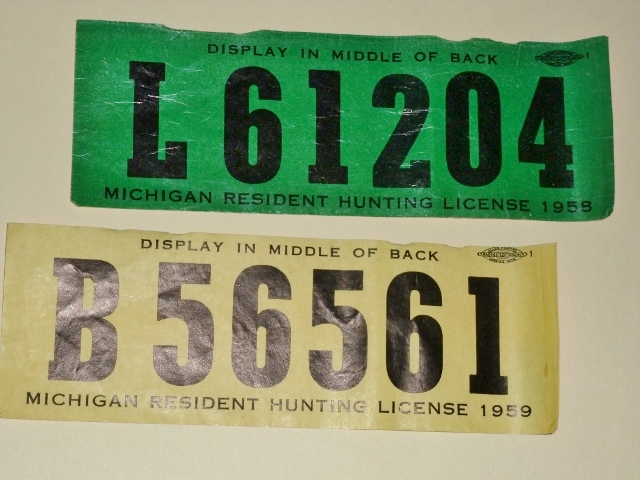 Small Game 1958 & 1959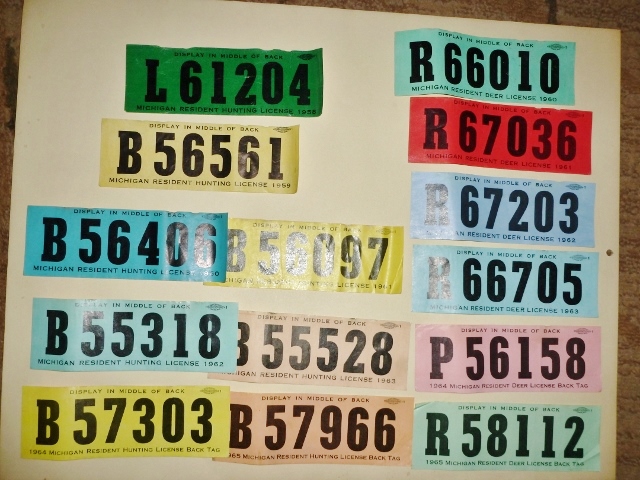 Small Game on Left-Deer on Right
Upon my discharge I immediately renewed my hunting life and my old licenses indicate I didn't miss a year since, with the exception of one fall in California when I had to miss a season in the 1980's. After that I continued my accumulation of licenses and never looked back. I hunted in California for small game and deer with a lone wild pig hunt to boot. In New Mexico both small game and elk along with deer and a onetime ibex hunt in the mountains near Silver City and White Sands.
My latest hunts have all been for deer and small game right back where I started sixty some odd years ago, Upper Michigan. My license collection includes racks of bucks on the wall and old license tags from most of the years I have hunted. A lifetime of memories in a coffee can. How blessed can a hunter be!
Chris
Tue, 03/04/2014 - 20:36
#1
I've saved many of mine (even
I've saved many of mine (even though I'm no where near as old as you). Ours are very boring compared to other states, an ugly computer printout now that gets rolled up and placed in my wallet. It can never be found when needed either. The other thing I save is recovered bullets. Great care is taken to find and clean them but, I never marked them as to what hunt or animal until lately. Great story Chris and, sorry about the age joke I know you'll get me back.
Wed, 03/05/2014 - 00:53
#2
OLD?
Who you calling old? I'm just broken in gently! Sorry those whiny libs out in WA don't make prettier licenses......Chris S