13th annual shoot
Hello Handgunners,
Here are some random shots regarding this year's event:
1. The date, Saturday, June 1, 2013, should be emblazoned on your calendar.
2. Attached is an updated invitation with rules. There are a few changes worthwhile reading.
3. I'm forecasting the current shortage of ammo will alleviate before the shoot. Maybe not. If you shoot something odd like 45 AR, 41 Magnum or 44 Special; you may find some dusty boxes if you hunt hard.
4. Currently, our sponsor, Buffalo Bore Ammunition has good supplies of the items most of us use, but at current rates of sales, they don't expect that to last more than a few weeks. Contact them at https://www.buffalobore.com/index.php?l=product_list&c=1 to place your order.
5. If you have some empty brass, powder, primers and bullets; you may also try being really nice to someone who reloads.
6. The range will be planted in a barely emerging spring crop and skies are forecast to be cloudless with light breezes from May 25th through June 9 (Morgan's graduation party), so shooting conditions will be superb.
7. Additional intermediate targets will be added for new interesting choices.
More updates to follow.
Will
Mon, 04/22/2013 - 16:48
#9
Good Evening Handgunners
Someone attending the ELMER KEITH Memorial Shoot HERE on Saturday, June 1, will be going home with a very special prize.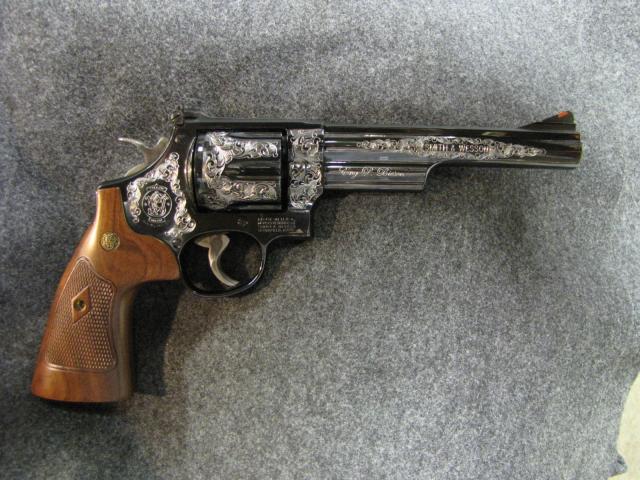 It has a history. Manufactured in 2007 commemorating the fiftieth anniversary of the Smith & Wesson Model 29, it was acquired from AllAmerican Arms in Spokane for our eighth annual get-together. Coincidently, the fellow holding the last card of the friendly game of chance we play for such things that year was the proprietor of All American Arms, Terry Rogers.
Not long thereafter, his prize was observed lounging in one of display cases in his shop with a big price tag attached. Terry's not sentimental about such things. Besides, it didn't have the high gloss bluing S&W puts on the guns they portray in their brochures. The over-sized gold 50th Anniversary emblem on the side plate was also a bit gaudy.
Consequently, it gathered dust for months. Then one day; I stopped by to caste a reckless eyeball around the place, spied the gun, caught Terry in a very weak moment and walked out with his prize.
I contemplated what to do with it for about a year until I decided I may not live long enough to see it appreciate to the lofty status of Triple Locks or early Model 25's and 26's. So, it was sent back to S&W for their "High Bright" bluing and "Outdoor Revolver Action Package" described here. Yes, the ugly gold emblem was lost in the process. When it returned, it really wanted to shoot, but alas, it remained virgin and slept a couple more years in storage.
Then, earlier this year, I met, Paula Biesen-Malicki, a lady with a rich firearms legacy. Those who grew up reading Jack O'Conner's hunting stories in Outdoor Life, Field & Stream and Sports Afield as well as several books he authored may recall the numerous times throughout those pages he talked about his custom rifles made by Al Biesen. Al's retired now and his son, Roger Biesen, runs the business. Roger's daughter, Paula, does the engraving. Read more. Her story about working into this heralded enterprise is best told around a campfire. It's fascinating, her work is meticulously executed and the finished product speaks for itself.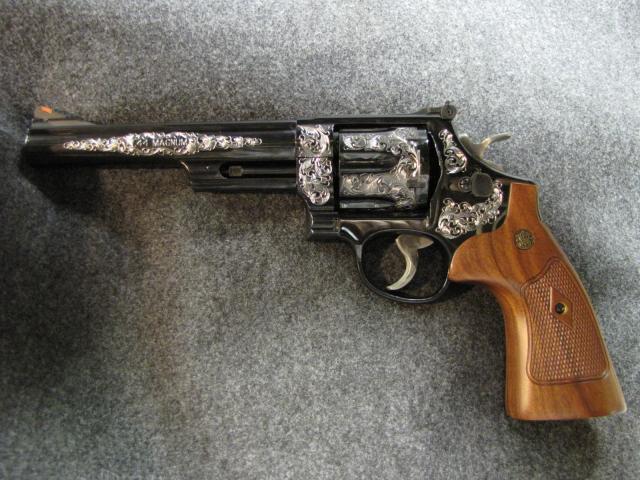 By the way, the engraving was not left "in the white" intentionally. It is so striking, courage has not yet been summoned to have it re-blued. That will be left to the one who wins it. Yes, it is protected from corrosion and dust by very simple, but effective methods recommended by Paula.
Yes, it's difficult to part with something that's evolved over time as this gun has. But a generous sponsor provided the incentive, and I'll look forward to presenting it to it's new caretaker.
Although a fancy S&W presentation case is part of the package, this work of art is also a tool that deserves to be frequently taken for walks in the manner ELMER KEITH used his. Many of his every day working guns were richly embellished. As an old Browning advertisement read, "The scratches of time only enhance their inherent value."
Meet me HERE on Saturday, June 1. You may get lucky!
Will